The rich are talked about very often in negative terms, but how often do the rich respond in kind? Australian billionaire Gina Rinehart, who inherited most of her money but apparently has also done very well with it, recently railed against class warfare and had
some advice for the non-rich
:
"There is no monopoly on becoming a millionaire," she writes. "If you're jealous of those with more money, don't just sit there and complain. Do something to make more money yourself - spend less time drinking, or smoking and socializing and more time working."
She complained about politicians raising taxes, regulations that slow investment, and other anti-business policies that harm the poor. "If you want to help the poor and our next generation, make investment, reinvenstment and businesses welcome."
Politicians, of course, responded by calling her comments an insult, others noted that she inherited her money, but note that they they didn't say she's wrong.
* * *
I love the old "ball coach"
One of my favorite football coaches is Steve Spurrier Not because he is an especially great coach, but because every week he says that reminds me of Yogi Berra. His press conferences and discussions with reporters can be hilarious without him trying to be funny.
Last weekend, in discussing his
starting quarterback who injured his shoulder in the game
:
"It's just painful for him,'' Spurrier said. ''And he has trouble lifting his arm right now so it's pretty hard to play quarterback.''
And if he lost his head, it might be tough for him to play soccer?
* * *
Wisdom from the young
Notre Dame's Everett Golson started his first game this past weekend, leading the football team to a 50-10 rout of Navy.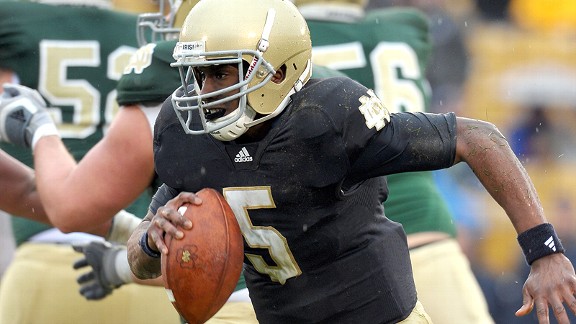 ''I think I was comfortable,'' said
Golson
, who won the starting job in a four-way competition. He spent his freshman year as the scout team QB, and credited coaches with easing his nerves by giving him permission to make mistakes.
Golson said his coaches told him: ''You're going to make mistakes but you just have to relax. You're going to make mistakes, but make them going full speed.''
1) Give yourself permission to make mistakes.
2) Give people in positions of power permission to make mistakes.
3) If you're going to make mistakes, make them "going full speed."
* * *
You got the wrong guy--really!
According to the Korea Times, one of the local newspapers made a major mistake going warp speed. "The local daily Chosun Ilbo, boasting the largest circulation in the country, apologized Sunday for misreporting a rape incident and turning an innocent citizen into a suspect."
As the Korea Times reports:
The daily printed on its Saturday city edition's front page the picture of a 23-year-old man who was caught Friday for kidnapping and raping a seven-year-old girl. Under the headline, "Sick society raped a child," the paper released two pictures thought to be that of the offender along with an article revealing his full name, Koh Jong-seok.



"We decided to print the picture of the offender thinking he could be another serious sex offender like Cho Doo-soon. We found the image while searching the Internet for a picture of Koh. We then asked the police and Koh's neighbors to identify the man in the picture and they all claimed it was Koh. We were convinced that it was him when we printed the picture in our final edition," the Chosun Ilbo explained in its online apology.

The issue first arose when a netizen who claimed he was a friend of the person in the picture uploaded an angry note on the board of an Internet portal saying, "The person in the picture pointed out as the sex offender is actually my friend who aspires to become a comedian. He is utterly shocked and distressed by the incident. He doesn't know what to do right now and even say he wants to die."

The daily recognized that it failed to check with the person involved.

"We failed to ask Koh himself to identify the person in the picture until the next day because reporters couldn't access him when he was being questioned. Only after receiving the complaint could we ask the police to ask Koh to confirm it. He said the person in the picture was someone he knew but not himself."
Some random thoughts:
1) I will remember this story the next time I hear a reporter complaining about bloggers printing stories before they actually confirm the details.
2) I won't complain the next time I read a story with a detail such as, "The suspect in the homicide failed to return phone calls."
3) Yes, I know the story isn't funny and details shouldn't be ironic--but it is kind of funny that the guy misidentified in the paper (a) aspires to be a comedian (b) considered suicide. Well, this is South Korea, the suicide capital of the world, so I guess that part isn't surprising.
4) It may be a mistranslation--they asked neighbors and police, and they ALL confirmed it was the wrong guy? It seems the paper needs to explain that in a bit more detail. As the old journalistic saying goes: "If your mother says she loves you, check it out." Either confirm such a detail or don't run the photo, right? It is important to be first with the photo/story, but having to explain such a major mistake?
5) How can the paper ever apologize to the guy? An apology in the paper seems inadequate. The newspaper may want to give him a full page to post his funniest comments or sponsor a stand-up comedy night for him, or the next time he does have a perform run a full-page ad promoting him.